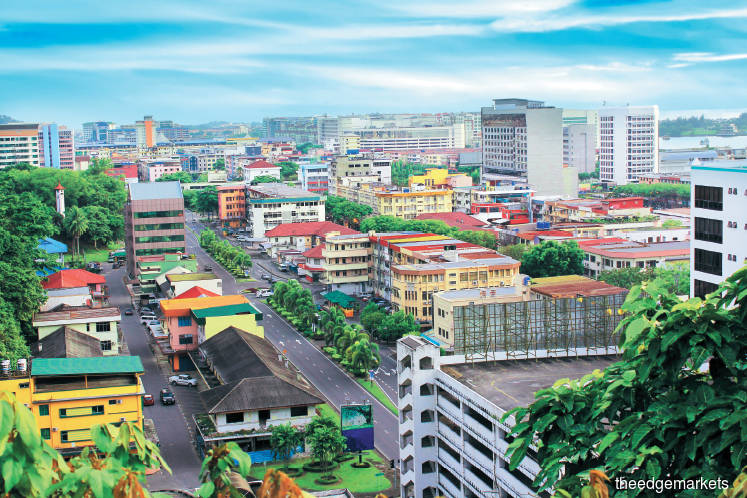 Kota Kinabalu Housing Property Monitor: Transaction Volume and Value Rise
The residential real estate market in Kota Kinabalu weathered the trend of slowing or stagnating growth by ending the last quarter of 2019 on a high, recording an increase in the volume and value of transactions.
"The year-over-year price growth observed by the land properties we sampled was between 3.41% and 10.26%, while that of the condominiums we sampled was 0.8% to 5.1%. , without price increase recorded by Jesselton Condominium and 1 Borneo Condominium. "Says Max Sylver Sintia, Branch Manager of Rahim & Co (Kota Kinabalu), during the presentation of 4Q2019 Kota Kinabalu Housing Property Monitor.
He reveals that Sabah will establish a new body to implement the state's real estate development plans.
"The approval of the Sabah Land Use Planning (Amendment) Act 2019 means that the Central Land Use Planning Council will be replaced by a new entity – the National Planning Council (SPC). It is expected that the SPC, which will formulate a high-level policy for the planning of the physical development of the state, will improve the efficiency of the development plan (DP) approval process, "said Max.
"One of the main goals of the removal of the Central Council is to speed up the real estate development project process. Approval of the PD will allow developers to plan and manage cash flow and resources as well as material allocation more effectively and efficiently. "
According to Max, there weren't many new launches during the quarter under review as a number of developers focused on liquidating their inventory.
Meanwhile, the rental market has not seen a significant increase for all types of products. "However, mature mid-cost apartments in areas well served by public transport, like the Beverly Hills Apartment in Jalan Bundusan, are able to achieve good rentals with gross returns of 4% to 7%," he said.
While most locals prefer real estate, this is slowly changing, Max points out. He has watched the high rise condominium market mature over the past five to seven years.
"Some of the older developments have enjoyed good capital appreciation over the years. For example, units at the Lido Four Seasons Residence, which is located in Jalan Lintas, were sold at RM320 psf on the primary market in 2013. In 2019, some units were sold on the secondary market for prices ranging from 500 RM at 550 psf. However, with the proliferation of new condo units on the market, most older condos experience slower price growth, as evidenced by our samples.
Max observes that apartments and condos under RM 400,000 per unit are "considered more attractive." He believes developers will likely continue their rebate programs while aftermarket sellers give rebates.
Even though the homeownership campaign ended last December, he expects the government to continue to encourage homeownership, including lowering the threshold for foreign buyers to RM600,000. against RM 1 million and with the introduction of the option-to-buy lease finance program.
Projects to watch
Max sees the real estate development landscape for Kota Kinabalu remaining stable, with projects coming up that will benefit potential investors.
"Most of the upcoming projects in downtown Kota Kinabalu involve smaller high-rise buildings, perhaps because the quantum sale price could be more affordable. Most of the new projects offer units with commercial titles, possibly to allow potential buyers to capitalize on the Airbnb business, "he said.
Upcoming projects include Sutera Bay by VTS Property Collection Sdn Bhd, 313 Suites by B International Holdings and Vetro 11 Designer Suites @ KK by Q Avenue Sdn Bhd.
Sutera Bay will have retail units and 283 serviced apartments. The 15-story development is located on the southwest axis of the Kota Kinabalu central business district and in the Sadong Jaya area. Serviced apartments will have 407 square foot or 686 square foot constructions, with the larger units having a dual key design. Estimated selling prices range from RM 1,082 to RM 1,189 per square foot.
Located in Jalan Pintas, 313 Suites will offer 226 serviced apartments. There will be two types of units: standard units with constructions from 360 to 564 square feet and duplex units from 800 to 1,381 square feet. Estimated selling prices start at RM880 psf.
Vetro 11 Designer Suites @ KK will have 260 serviced apartments. It is located in Jalan Penampang and is in the immediate vicinity of the Queen Elizabeth Kota Kinabalu Hospital. The 18-storey project will include shops on the ground floor, car parks on levels 1 to 6, serviced residences on levels 7 to 16 and hotel rooms on the two upper floors which will be managed by a third party. Constructions of the serviced apartments will range from 308 to 536 square feet, with estimated selling prices starting at RM910 psf.
Max predicts that the overall Kota Kinabalu real estate market in the first half of the year will most likely remain the same as in 2019, although improving sentiment should give the market a slight boost.
"The affordable market is expected to remain active while the high end market, especially those with units starting at RM1 million, might be seen as rather unattractive, except for those who value the advantages of location, size, price and brand, "he said. .
Performance of townhouses and condos
During the quarter under review, the average growth achieved by the sampled two-storey townhouses was 5.38%. The highest year-over-year growth was seen in homes in Luyang Perdana (up 7.14% to RM750,000), followed by Taman Jindo (6.56%), Millenium Height ( 6.09%), Taman Sri Borneo (5.74%), Golden Hill Garden (5.13%), Ujana Kingfisher (3.6%) and Taman Indah Permai (3.41%).
On a quarterly basis, Millenium Height units led with growth of 1.67%, followed by Luyang Perdana (1.35%), Golden Hill Garden (0.88%) and Taman Sri Borneo (0.78% ). There has been no qoq price movement for houses in Taman Indah Permai and Taman Jindo.
All leased properties saw average rental growth of 2.99% year-over-year. The top three performers were Taman Jindo (5% to 2,100 RM per month), Taman Indah Permai (3.45% to 1,500 RM per month) and Ujana Kingfisher (2.94% to 1,750 RM per month). Quarter-on-quarter, no growth in rents was observed for all the areas covered.
For one-story townhouses, the average price growth was 8.75% year-on-year. The largest increase was recorded by those of Taman Tuan Huat (10.26% at 430,000 RM), followed by Taman Nelly Ph 9 (8.05% at 470,000 RM) and Taman Sri Kepayan (7.95% at RM 475,000). On a quarterly basis, Taman Tuan Huat also recorded the largest increase of 2.38%, followed by Taman Nelly Ph 9 (2.17%) and Taman Sri Kepayan (1.06%).
Rent growth was recorded in all three zones – homes in Taman Tuan Huat saw an increase of 3.45% to RM 1,500 per month, followed by Taman Nelly Ph 9 (3.23% to RM 1,600 per month). month) and Taman Sri Kepayan (2.94% at RM 1,750 per month). No rental growth was recorded quarter on quarter.
Meanwhile, average condo price growth was 2.08% in the last quarter of 2019. The strongest year-over-year growth was achieved by units in Likas Square (up 5.1% to RM415 psf), followed by Bayshore Condominium (3.9% at RM 530 psf), The Peak Condominium (3.1% at RM670 psf), Radiant Tower (2.1% at RM490 psf), Alam Damai (1.7% at RM590 psf) and Marina Court (0.8% at RM625 psf). No price increases were recorded for the units of Jesselton Condominium and 1 Borneo Condominium.
Only three condos saw their prices increase quarter on quarter, namely Likas Square (1.2%), Bayshore Condominium (1%) and Marina Court (0.8%).
Rents for all condos were unchanged year-over-year and year-on-year.